E-Mail To Democratic Party of Florida Regarding Political Endorsement of Paule Villard
Sent : Fri, Nov 10, 5:24 PM
Good Afternoon Director Fried,
My name is Keith Myers, and I am both a longtime resident of North Miami Beach and a registered Democrat. I am very outspoken in local politics and have played a key role in exposing the corrupt behavior of one of the former commissioners in North Miami Beach, Paule Villard. We briefly met when you were running for Governor and came to North Miami Beach to participate in the debate. I was shocked to learn that my neighbors (many of whom are also registered Democrats) started receiving text messages in which it was stated that Paule Villard has been endorsed by the Democratic Party of Florida.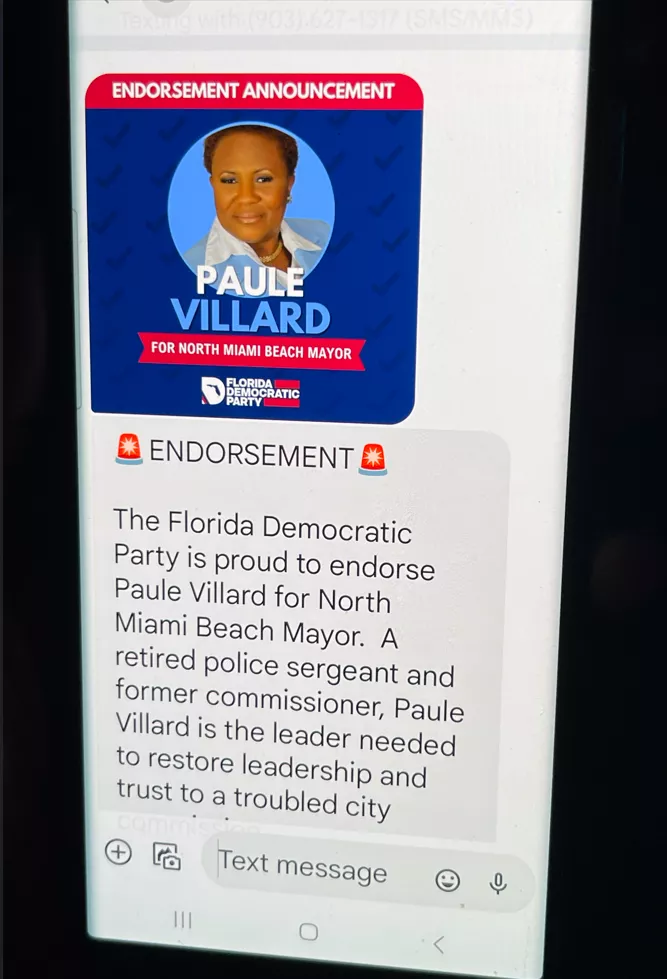 I am outraged by this endorsement, Paule Villard's previous term in office was marred with controversy, and this has led to multiple probes by the State of Florida who has already scheduled Paule Villard for two probable cause hearings over her misuse of public funds and abuse of office.
I want to assume this was a blanket endorsement, but I want you to understand more about who you are endorsing.
First, the endorsement refers to her as a "Retired Police Sergeant" which is a misleading statement as it is a well established fact that Paule Villard has never worked a single day in the line of duty as a Sergeant. Per her performance records with the City of Miami, she was a sub-par police officer who has received multiple write-ups and exemplified the moniker of "Needs Improvement". Her employee personnel file is public record. The title of Sergeant was a ceremonial title given to her when she retired from the police.
In 2022, Paule Villard took a vacation to Las Vegas, graciously paid for by the taxpayers of North Miami Beach. The purpose of this trip was for Commissioner Villard to take a 1-hour tour of Elon Musk's Hyperloop Tunnels as part of a ludicrous plan to bring them to North Miami Beach. Ignoring the fact that if constructed, it would bankrupt the city, Paule Villard not only traveled to Las Vegas for this hour-long tour, but she stayed several nights at the Bellagio as part of her taxpayer-funded trip. She even flew her assistant out and booked accommodations at the same resort. While on this trip, she enjoyed a limo service and what appeared to be a spa treatment. I can provide you with her City of North Miami Beach credit card statements to back up these claims. Even if you can justify the tour of a tunnel as a wise use of taxpayer funds, it is insanity to justify spending a night in a luxury resort, let alone four nights.
In 2022, Paule Villard took another taxpayer-funded trip to Haiti for a religious event. Originally this was billed as a "joint training between the Police of North Miami Beach and the Cap-Haitien Police Department" but there are no records of any form of agreement between the North Miami Beach and any foreign law enforcement agencies. I asked two commissioners at the time (Barbara Kramer and Fortuna Smukler) who were never made aware of this, the city clerk had no records of this and the Mayor was also surprised to learn of this. The chief of police was also kept in the dark. It is well known that the crime rate is high in Haiti so Paule Villard took the Deputy Police Chief along to act as a bodyguard. After Paule Villard was voted out of office in November of 2022, the truth came out and it turned out to be for a religious event - entirely ignoring the separation between Church and State. Again, I am more than happy to provide evidence of this including the bills.
During the elections, Paule Villard used over $200,000 of ARPA money to purchase Publix gift cards, which were handed out to voters of North Miami Beach at an event that can only be described as a drive-through campaign rally designed to promote Paule Villard, complete with her photo being used everywhere. This landed her on the local news as they (correctly) suspected that Paule was only handing out the gift cards as a way to draw in more voters. Probably the most egregious statement that Paule Villard made to the news cameras is that the "American Rescue Plan money was not taxpayer money". To make this even worse, around 100 of these gift cards (in $150 denominations) went missing, eventually leading to the arrest of two city employees, and the whereabouts of most of these cards are still unknown to this day).
During Paule's term in office, she felt it was a good idea to have a police officer drive her around, like a limo driver. The officers were even filmed opening up the back passenger door and standing at attention while she entered and exited the car like she was royalty. This humiliating misuse of a police officer to act as her private driver serves no purpose in a city that is less than 4 square miles. No other commissioner felt entitled enough to do this, and most were disgusted after seeing the gross misuse of resources. To further add to the humiliation, Paule would conduct several livestreams in which she was running personal errands, all while seated in the back seat of her taxpayer-funded limo service. Paule has since scrubbed these off her Facebook account, but they are safely archived, and I will happily provide them to you upon request.
These are just a few of the worst examples of Paule Villard's misconduct while in office, and this misconduct has her scheduled for multiple probable cause hearings in front of the State of Florida Commission on Ethics. Although I cannot share the exact details of the charges (I am the complainant ), I can say that the investigator that the state assigned to the case was shocked with what she uncovered and expressed that there is a chance that this gets referred for criminal charges.
I strongly recommend that the Florida Democratic Party retract its endorsement of Paule Villard and issue a statement condemning her disgraceful behavior. Paule Villard is not someone who should be endorsed by anyone, and I will honestly leave the Democratic Party of Florida if they choose to continue to stand behind a woman who should be in prison, not running for Mayor of North Miami Beach. To further add fuel to the fire, North Miami Beach city elections are intended to be nonpartisan and there are Florida Statutes that limit what a political party can do in nonpartisan elections, specifically outlined in Chapter 5.
I ask for a response so I can know which direction I am going to go as I cannot be part of a party who supports corruption.
Thank you for taking the time to read this email
Keith I Myers