Reasons why the Amazon Fire Phone Failed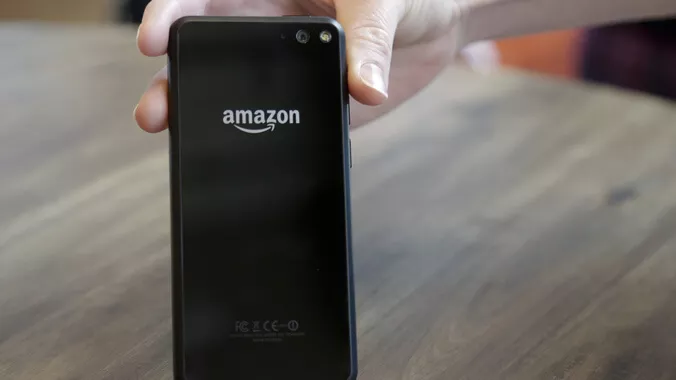 On July 25th of 2014, Amazon took a major leap of faith with their entry into the mobile phone market with the Amazon Fire Phone. This was an Android Phone that was completely devoid of Google's Application Ecosystem. This AT&T exclusive phone was released and failed to sway users away from existing ecosystems into the new Amazon ecosystem. Despite everything Amazon tried including aggressive price cuts, bundling a year of Amazon Prime, Firesales and unlocking the phone – it still failed to sell. This post will take a close look at the Amazon Fire Phone to try to understand the reason for its failure.
Disclaimer: This Page Has Been Archived
Please note that this blog post has been archived and may contain information that is outdated, defunct, or covers topics that are no longer of interest. It is being kept available solely for reference purposes, in case others might find portions of it useful.
For more recent and up-to-date tutorials, I recommend visiting KMyers.me or other websites that specialize in the topic you are interested in. It is always advisable to seek the most current information to ensure accuracy and relevance.
Hardware
2014 was a pivotal year for smartphones due to the fact that manufacturers were starting to embrace higher end hardware options. Phones with 1080p displays, 2 GB RAM and 32 GB of on board storage were commonplace on all flagship phones. The Amazon Fire Phone did meet many of the marks that one would expect from a 2014 smart phone however did fall short in the screen department with a pitiful 4.7 inch 720p display, which is inexcusable on a phone that was designed to act as an entertainment and consumption hub. The fact that the phone had a minuscule 2,400 mAh battery meant you could not binge watch (Affiliate Link)Amazon Prime Movies without going too far from an outlet.
The phone's hardware was mostly average however there were a few unique hardware features added by Amazon such as an inferred tracker and a dedicated "firefly" button. The major redeeming factor is that the phone did come with front facing stereo speakers which allowed it to compete with HTC in the sound department.
To sum it up, the phone's hardware was simply on par with the average 2013-2014 phone which is not bad but it is not fair to call this a flagship. There is little evidence to show that the hardware was the reason for the phone's failure however with an asking price of $600+ for the 64GB version, it was hard to justify.
Carrier Exclusivity
When the Amazon Fire Phone was released, Amazon decided to partner up with AT&T to make the phone exclusive to AT&T. This decision was later reversed due to poor sales and Amazon announced that they would begin unlocking the Fire Phone to allow it to be used on most GSM providers, this move did not do a whole lot to bolster sales.
Software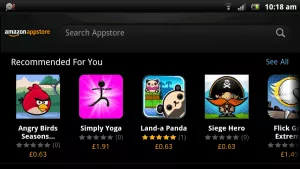 The phone was released with FireOS which is a heavily modified version of Android 4.2 and was later upgraded to FireOS 3.6.5 which was based on Android 4.4 (Kit Kat). If you have never used FireOS, you would never guess that it runs Android. FireOS does away with traditional Android features to put your content front and center. This makes sense on a device that was designed for media consumption such as the Kindle Fire but is a questionable move on a phone which is not only a consumption device but also a communication device.
Amazon adds several exclusive features to the Fire Phone that all tie back into an existing Amazon service. Firefly is Amazon's smart search tool that allows you to focus your phone's camera on a book, product or song in order to be presented with an option to buy one of your own.
The performance of Amazon's FireOS is generally very snappy with almost no signs of lag or stuttering, even when playing games.
Unfortunately FireOS is often several releases behind the traditional Android version and due to the customization that Amazon performs, you will likely never see any of the benefits added in later builds of Android.
Application Ecosystem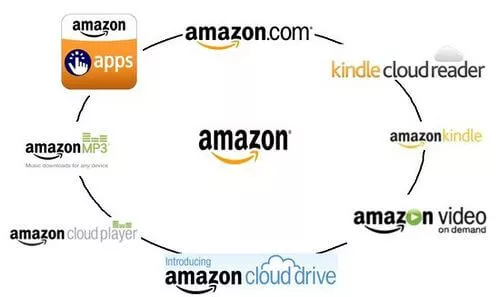 FireOS strips all traces of Google from Android, you will not get access to GMail, YouTube or the Google Play Store. Amazon does however offer their own set of services that act as a drop-in replacement including Amazon's own App Store, Amazon Prime Movies, Amazon Music and more.
Amazon's App Store is actually very good but it lacks the overwhelming amount of applications that can be found in the Google Play Store. There is a massive selection of (legal) (Affiliate Link)FREE applications on Amazon's app store that are normally paid on the Google Play Store. The Amazon App store is not exclusive to FireOS and can be used on any Android Device if you are comfortable with side-loading the App Store.
Google Play Movies and Google Play Music are both replaced with Amazon Music and Amazon Videos, both are worthy drop in replacements that offer the same feature set. If you are an (Affiliate Link)Amazon Prime Member, you can even get your hands on an insane amount of Free Content. These tools are also not exclusive to FireOS and can be installed on most Android Devices with little effort.
Google Play books is replaced with Amazon's own (Affiliate Link)Kindle Reading App which is by far superior in my opinion. If you are an audiobook person, no need to fear as Audible support is baked right in.
Google Chrome is not present on the Fire Phone and it has been replaced with Amazon's Silk Browser which is not horrible. You do loose a lot of the integration and Syncing abilities that is found with Chrome however you do gain quite a bit of speed due to the server-side compression and optimization that Amazon does to all web content before you view it on the Silk Browser. If you do not like Silk, other browsers can be found in the Amazon App Store.
Social Networking is almost on par with other Android devices, the Amazon App Store has the most common applications such as Facebook and Twitter. You wont be finding Google Plus or Google Hangouts in this list however.
Gaming on FireOS is just about on par with other Android devices, the Amazon App Store offers a slew of popular titles. If you use (Affiliate Link)Amazon Underground, there are over $10,000 in free (many Kid Friendly) applications and Amazon will even pick up the tab on In App Purchases for these titles.
Aside from the lack of a Google Plus client, I do miss having a proper YouTube app. The third party apps in the App Store are functional but lack many of the features and polish found in Google's first party app. YouTube's mobile web version works but is not ideal for extended use.
Perks
In order to increase the value of purchasing the Fire Phone, Amazon includes several perks such as a year of (Affiliate Link)Amazon Prime, which should cover most of your music and video needs. Amazon also includes a lifetime of unlimited photo storage to any user who purchases the phone.
These perks try to offset the high initial cost of purchasing the phone but also remained in tact when Amazon started with the Firesales of the phone.
Final Thoughts
It took only a few months for Amazon to realize that they were in trouble which is evident from the almost immediate price drops followed by removing the requirement to be on AT&T. The problem was that most Android users felt no compelling reason to switch ecosystems and most iOS users rely on the deep integration of Apple's products and services. This is especially true in the United States. I attribute this to the primary reason for the FireOS's failure to capture the market.
Amazon could have avoided this if they changed their marketing strategy a bit, here are a few ideas I have come up with that would likely have allowed the Fire Phone to thrive.
Amazon could have offered the Fire Phone as a kid-friendly smartphone in the way that Amazon currently does with some of their Kindle Fire Tablets. They would need to include some parental controls to allow them to limit data use, limit access to unapproved content and monitor use. Parents could also be given access to a GPS tracking portal so they always know the location of their kids.
Offered it on smaller MVNOs where the Fire Phone may likely be the first Smart Phone that a person would have exposure with. As it stands, Flip Phones make up a large chunk of TrackPhone, GoPhone, Virgin Mobile and other smaller providers. Amazon would need to price accordingly and possibly subsidize the costs with the hope of making up the money by the person using other Amazon Services.
Proving the phone for Free with the purchase of Amazon Prime (Opt-In). Amazon would be able to make back the money if the person uses Amazon Services.