A Review of the Google Nexus Player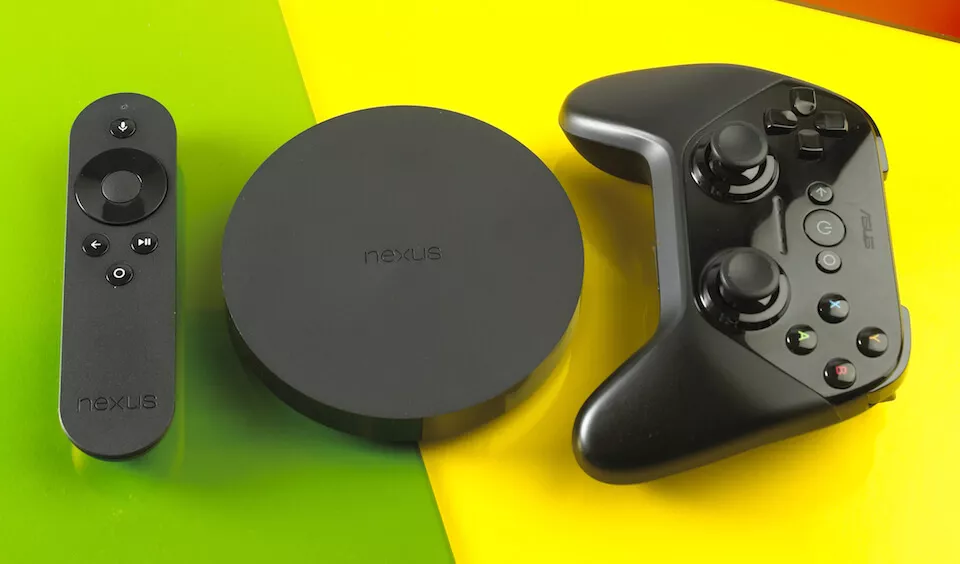 Over the years, I have amassed a large collection of Google Home Entertainment products including several Google TV set-top boxes and a handful of Google Chromecasts. Google made a somewhat expected announcement late last year that they would discontinue the Google TV system and at the same time announced the successor, Android TV. I managed to pick up a Nexus Player about a month ago and spent the past few weeks kicking the tires. Here is my review of both the Nexus Player and Android TV.
Disclaimer: This Page Has Been Archived
Please note that this blog post has been archived and may contain information that is outdated, defunct, or covers topics that are no longer of interest. It is being kept available solely for reference purposes, in case others might find portions of it useful.
For more recent and up-to-date tutorials, I recommend visiting KMyers.me or other websites that specialize in the topic you are interested in. It is always advisable to seek the most current information to ensure accuracy and relevance.
This review will be done in three main sections, one to cover the hardware, one to cover the Nexus Player Game Pad and another to cover the software. The software section is of course subject to change as Google releases future versions of Android and delivers other software enhancements.
The Nexus Player Hardware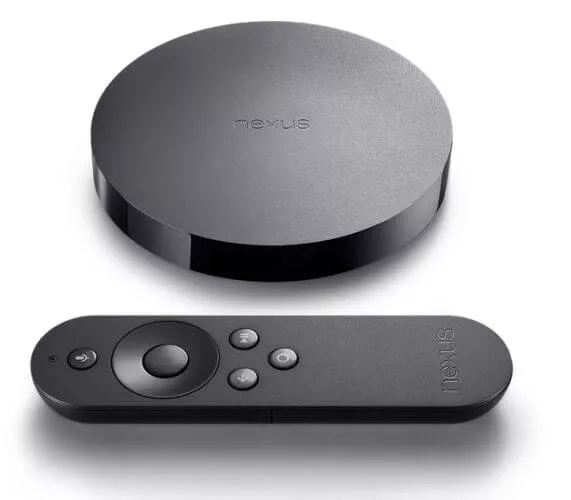 Upon opening the box of theNexus Player, you will be surprised with the stellar build quality of the sleek puck shaped device that awaits you. The Nexus Player is built in a way that would likely allow it to survive being used as a hockey puck if Android TV were to ever fail, it is that solid. The Nexus Player box includes a typical "wall wart" plug that closely resembles the one shipped with the HP Chromebook 11 in shape and size. The box also includes a lightweight control and a set of AAA batteries for the aforementioned control.
Under the hood, the Nexus Player has some pretty impressive hardware tucked into its minimalism case. A powerful quad-core Intel Atom processor clocked at 1.8 GHz and 1 GB of RAM allow the Nexus Player to handle almost anything you could possibly throw at it. When bundled with the Imagination PowerVR GPU and 802.11 ac WiFi, the Nexus Player is transformed from a media consumption device into a machine that could replace your gaming console, especially if you purchase the optional gaming controller. Unfortunately the dream of throwing some high powered games on the Nexus Player is quickly shattered when you find out that Google has limited the Nexus Player to 8 GB of on board storage with no official option to expand the storage.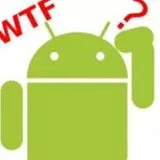 The lack of storage on the Nexus Player is its biggest flaw as most of the games that were built to take advantage of the big screen are between 2 and 3 GB in size. It is like buying a game console that can only play one game. I would love to see a 32 GB and 64 GB variant as well as official support for MicroSD cards in the unit. With this technically being a "Nexus" device, the lack of a MicroSD card slot is not surprising to be honest. The Nexus Player does in some ways redeem itself with the inclusion of a MicroUSB port which not only serves as a way for developers to access the unit (via adb) but also acts as a USB host port with a standard USB OTG adapter (not included). The Nexus Player will work with many USB accessories including Ethernet Adapters, Keyboards, Mice and even USB Storage devices. Unfortunately it is not possible to insert a 64 GB Flash Drive onto the unit to expand the storage and install your games. It is however technically possible to play media content from a external flash drive.
The remote control included with the Nexus Player unfortunately does not feel as well built as the Nexus Player itself. It weighs almost nothing but it does get the job done and does not feel like it will fall apart in a few weeks. You may also download the Android TV control on your Android Phone or tablet from the Google Play Store and use it in place of the remote. The remote uses Bluetooth to connect to the Nexus Player so it does not need to maintain a clear line of sight. The remote finally has a microphone with a voice activation to allow you to search any of the services using your voice. Aside from the build quality of the remote, my only criticism here would be that I wish Google would have opted to include a remote that recharged over MicroUSB rather then needing AAA batteries, thanks to Bluetooth LE, an overnight recharge should last months.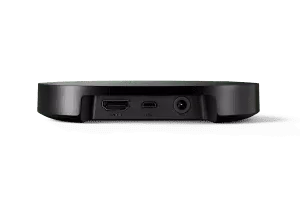 The rear of the Nexus Player is sparse and has a total of three ports; an HDMI out, MicroUSB Host and the power input. This simplified layout makes connecting the Nexus Player a simple task that should take less then a few minutes. If you happen to already have a Chromecast plugged into your TV, go ahead and remove it (more on that a bit later). If you enjoyed some of the features of Google TV such as the Smart TV Guide, IR Blaster and HDMI pass-through, sorry to break it to you but these features have been removed which is a step backwards in many ways. Google clearly valued simplicity over a large feature set. As the Nexus Player's remote control used Bluetooth rather then IR, you can safely hide the Nexus Player hardware behind your television if you wish.
Overall, aside from the lack of storage, the Nexus Player is actually a very nice piece of hardware. As with any first generation product, it lacks maturity and shows that Google still has a lot of work to do in order to dominate the home entertainment market. If you took the time to read over my "Google in the Home Entertainment Market"post, you can clearly see that although the Nexus Player is a great product, it has taken a few steps back in the feature set offered by the 2010-2013 Google TV units.
The Nexus Player Gamepad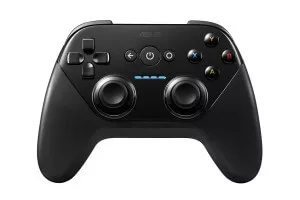 If you have an extra $40.00 in your wallet, you can opt to purchase the Nexus Player Gamepad although they have been a bit hard to find as of this writing in retail stores. You can however purchase them from the Google Play Store or from Amazon. The build quality of the Gamepad is not bad but it is not as solid as others on the market but it will work for some lightweight gaming when needed. The buttons and joysticks are almost on par with other generic Bluetooth gaming controllers. The Nexus Player allows up to 4 gamepads to be setup at any time and the setup process is simple. The Gamepad has a set of dedicated buttons to control the Nexus Player such as a dedicated Home and Back button. With the exception of the voice search, the Nexus Player Gamepad can be used to control all functions on the Nexus Player.
I sat down for a few hours with the game pad to play a game of The Bard's Tale (Amazon or Google Play). Gameplay was flawless and the controls worked perfectly. Not all games will work without a touchscreen but this is indeed an exception. The control was very responsive with no lag between key-presses. I have not attempted a multi-player game as of this writing.
Unfortunately there are some huge flaws in the Gamepad that may not make this accessory worth the money. First, the battery compartment was poorly designed to clip on the bottom of the control, it almost feels like an afterthought. The compartment holds 2 AA batteries. The button to remove the battery pack is almost too easy to activate which resulted in a few lost lives in my game. Much like the standard remote, I wish that the Gamepad would have opted for a rechargeable battery rather than AA batteries. I would also love to see a heptic feedback option as well. The final flaw in the remote is the limited storage on the Nexus Player itself, most games that can take advantage of the control are MASSIVE.
I really want to love this control but I have to recommend that you pass on this if possible, at least until a 32 GB Nexus Player is ever released unless you really need it.
Android TV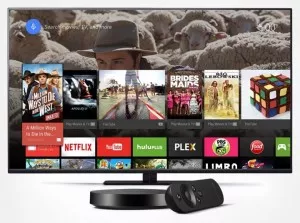 The Nexus Player is powered by Google's Android TV platform which is essentially a skinned version of Android 5.0. Unlike Google TV, Android TV does not try to present a full Android Interface, opting for a tiled interface. The focus of Android TV is clearly to showcase your content. Android TV does a stellar job of showing recommendations from Google Play Movies and YouTube. Several first party Google Applications such as Google Play Movies, Google Play Music, Google Play Games and the Google Play Store are all pre-loaded on the Android TV platform.There are several third party applications such as Netflix, Hulu Plus, Plex and Food Network that can be installed from the Google Play Store. Google also includes the platform game "Badlands" on the Nexus Player to show off its gaming features which does not need the Gamepad.
One nice feature of Android TV is that it has the ability to mimic almost all of the functionality of the Google Chromecast including screen sharing. There are threeitems missing from the Android TV implementation of the Google Chromecast; no "special offers", no "Guest Mode" and you cannot setup a custom backdrop (aka dreamscape). There is really no need to have an Android TV and a Chromecast plugged into the same TV. Much like the Chromecast, you can control the Android TV unit completely from a phone or tablet with the Android TV Remote application which can be downloaded from the Google Play Store.I do however wish that the Android TV Remote Application would include an On Screen Keyboard to allow for text input.
As far as the Desktop, if you have the Google Chromecast Extension installed in Google Chrome, you should feel right at home as the workflow to cast content is identical to the Chromecast. Even an Android Fanboy will be grasping at straws to find any differences to elude them that you are using a Android TV unit instead of a Chromecast.
Upon powering up for the first time, you are taken through a simple setup process that can be done completely with the remote or with the help of a laptop or desktop computer running the Google Chrome Browser. If you have setup the Chromecast in the past, you should have absolutely no problems with this setup.
Unfortunately, much like the Nexus Player hardware, there are a few flaws with the software on the Nexus Player although these can be fixed with future software updates. My biggest complaint is that the YouTube application does not always automatically refresh and there is no simple way of manually refreshing the content. The YouTube application also lacks the ability to change the video quality as well for slower connections. There is also no way to control the volume without reaching for the TV remote.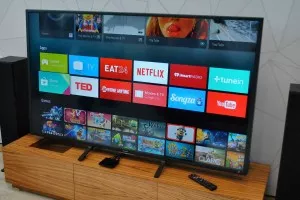 Google has implemented a voice search tool similar to Google Now on Android Phones and tablets. Unfortunately this search tool is limited to searching media content and very simple web searches. You can ask things like "What time is it?" and "How is the weather" and it will respond accordingly, as soon as you use commands like "remind me to…" you are greeted with a list of YouTube videos about reminders. I would love to see a full Google Now integration.
The Google Play store shows a stripped down number of applications approved for the Android TV platform, which Google is approving applications manually. You can sideload almost any application via the USB port if you wish. The layout of the Play Store makes sense but the selection of applications almost gives me flashbacks of Palm's WebOS store which had less then 50 applications for its first 8 months. This is a problem that will eventually be solved as more developers optimize their applications for Android TV.
Netflix, Google Play Movies and Hulu Plus all work flawlessly which makes sense as Android TV is clearly a consumption device.
Overall Android TV was a pleasure to use yet still needs a lot of work to fix some of the bugs. I cannot wait to see where Google takes this in the future. I would have no problems recomending this in lieu of a Chromecast.