Keith I Myers – 2016-02-10 15:26:44-0500 – Updated: 2016-02-10 15:26:44-0500So… Comcrap sees Google Fiber as a threat? GOOD!Originally shared by My parents are in Atlanta and our family will definitely be switching to +Google Fiber as soon as it is available in our neighborhood. What a misleading advertisement by +Comcast Atlanta.
From my experience, Comcast has arbitrary data caps, frustrating customer service and the opposite of what they seem to claim. If their service is so great, they should welcome the competition. I am stoked to see how traditional industries are being disrupted by companies like Google, especially in this important industry that has been stagnant for far too long.
Comcast begs Atlanta customers not to switch to Google Fiber | Ars Technica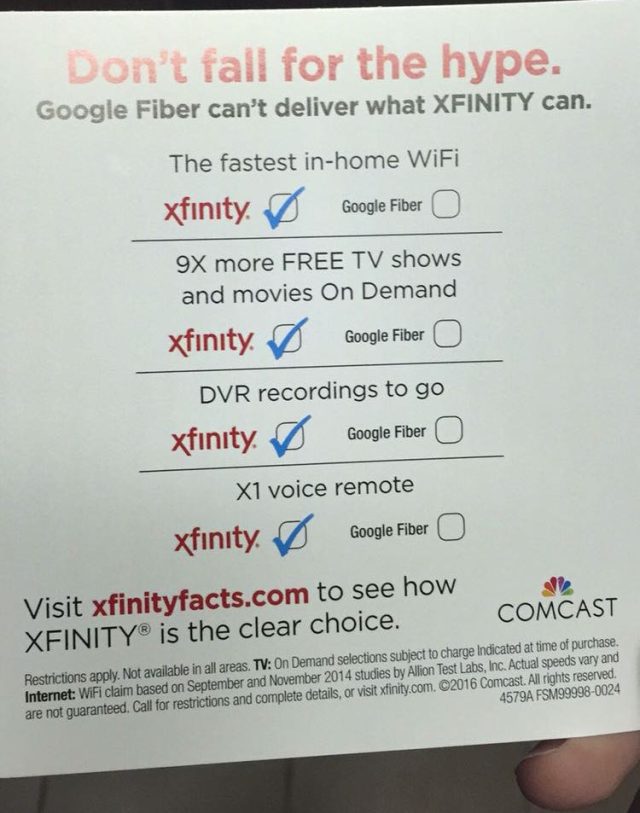 Shared with: Public+1'd by: Jeanne Sutton, Marty Ballard, Jonathan Muirhead, Roberto Mezquia Jr, Roney ThomasSøren Staun – 2016-02-10 15:31:17-0500I think they forgot the major decision point here:
"Not run by Comcast"
xfinity [  ]       Google Fiber [X]
 Wayne May – 2016-02-10 15:34:16-0500Haha, the fine print says that this is based on a 2014 study. I wonder how many people fall for this nonsense?Robert Hamilton – 2016-02-10 17:11:57-0500I wonder how many people had Google Fiber in Atlanta in 2014?NATF XDA – 2016-02-10 18:33:04-0500The xfinity router was one of the main things I missed when switching to FiOS. They began offering a Cisco 802.11ac router in early 2014, which is the one they're referring to in the fine print. I had to buy one since Verizon didn't offer one until mid-2015.